Restaurant Review: The Tea Terrace, Guildford
The Tea Terrace in Guildford is on the top floor of House of Fraser on the high street. Walking through the department store and heading up four escalators you reach the bright and airy Tea Terrace.
The Tea Terrace has an Alice in Wonderland theme due to the author Lewis Carroll who wrote the book lived his final years in the town. The Tea Terrace has two large chairs and quotes about having afternoon tea. The whole thing screams out English and traditional. It serves breakfast, lunch and afternoon tea daily.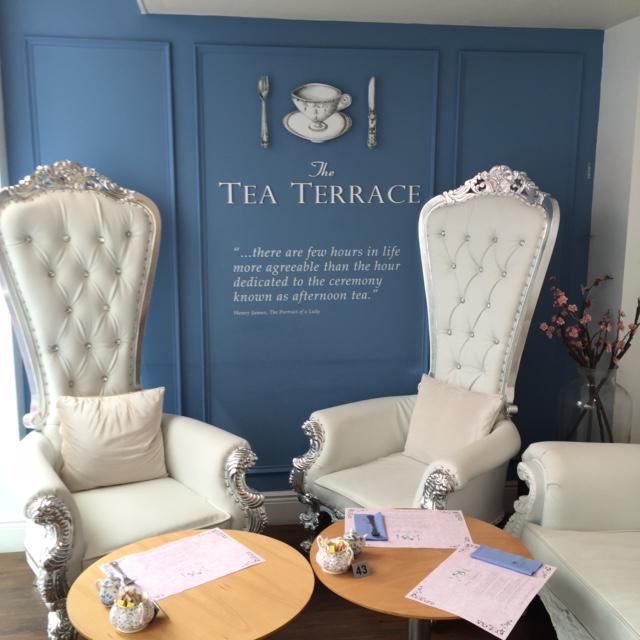 Shopping in Guildford, I have been to the Tea Terrace before and having a full afternoon tea. On this occasion and wanting to enjoy the nice weather I opted to sit outside on the terrace and order a cream tea for one. The terrace has about 15 tables all surrounded by plants and a water feature running throughout the whole area. The view surroundign shows Guildford Cathedral and the surrey hills in a spectacular way. The restaurant has folding doors, giving the outside inside impression.
The waitress handed me a menu, opted for a traditional cream tea. The waitress asked if I was happy about having English breakfast or Lady Grey tea. I opted for traditional English breakfast but liked the choice you could have. It then came to ordering the scone, which is difficult as they have fruit, stem ginger, apple and cinnamon or cheese flavor. After a very long time I opted for the stem ginger one, but was torn between that and the fruit flavor. When it was brought out it was warm and had clotted cram and strawberry jam in individual pots. However as I struggled to make the choice, the waitress brought me both to try which I was very lucky and grateful to receive.
If ever in Guildford, I would fully recommend to go here, as their lunch and afternoon tea sets are define. The view in Guildford is stunning with the cathedral and hills in the background. It's just worth going for this alone. Though where not in a traditional cafe or hotel, you get that impression the moment you leave the department store. Due to the furniture they use and it resembles being in a 5* location.
The only downside is that it can become popular and may cause a wait. For the tea and a scone it costs £9.20 each plus tip. Like I said I was lucky to receive the second one for free to try. Despite both these reasons I would go back anytime I was in Guildford.